I was in a rare mood for a rom-com the other day and saw that Nora Ephron's ye olde You've Got Mail was streaming. And pretty old it is — its 20th anniversary is this week. It's one of those films that you'd think isn't at all timeless due to its very specific moment in time with technology. The premise, however, of two strangers making a connection from afar, is classic and transcends the era of modem noises, bulky laptops, and the mysterious "internet." After all, it was based on a 1937 play, Parfumerie by Miklós László. There has to be something timeless in there.
I wanted to rewatch it in full and see what elements have held up as timeless and what has now become a relic of early internet zeitgeist. I'm putting on my Elder Millennial hat to recall a time when people met strangers on the internet and read real paper books. Sounds suspiciously like today, actually. On to the '90s!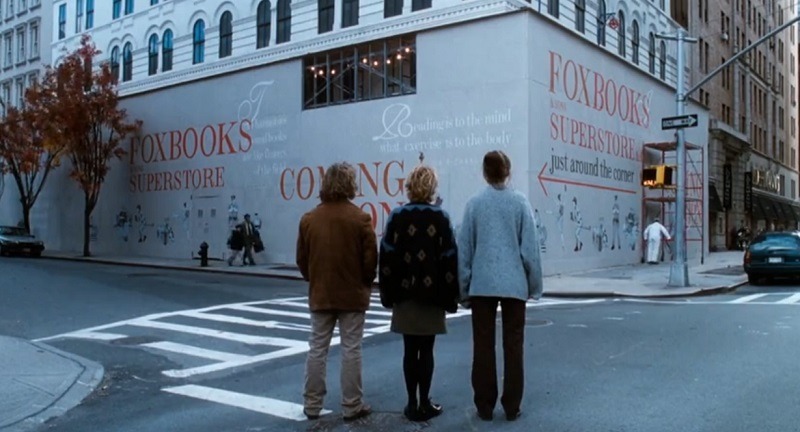 Relic: big box bookstore as death to independents
Amazon wasn't yet the behemoth feeding the Bezos Beast it is now. Dabney Coleman's Nelson Fox says, "Another independent bites the dust." Interestingly, despite a huge shift (and eventual decline) from smaller bookstores to Barnes and Nobles and Borders in past decades, nowadays you're more likely to find the Gen Zers and Millennials holed up in public libraries, artisanal coffee shops selling niche travel journals, and the increasingly popular used bookstores that are again de rigeur.
Books are back baby, and I wonder how a sweet place like Shop Around the Corner would fare today.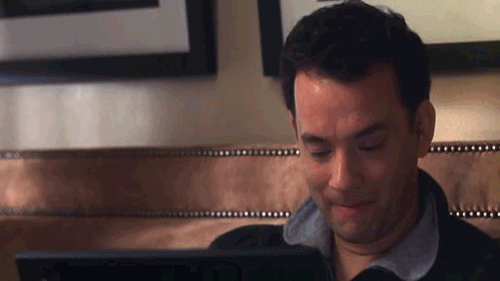 Timeless: how NY152 could have been a Catfish
Tom Hanks' Joe Fox's screen name of NY152 was key to a bonding moment for Meg Ryan's Kathleen Kelly and Joe: 152 pock marks… 152 insights into my soul. Kathleen didn't know who she was talking to and as the popular MTV show "Catfish" attests, he could be anyone. Catfishes are still alive and luring, and even more prevalent than they would have been way back in 1998. Cyrano de Bergerac and all of his ilk are indeed timeless.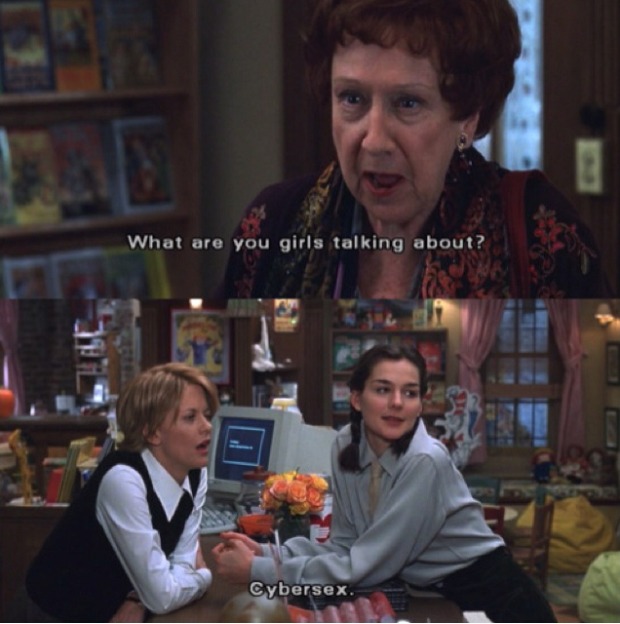 Relic: "cybersex!"
Okay, we all know talking dirty online isn't going anywhere. But the relic here is the fresh scandal that surrounded it back in the day. Kathleen's Aunt Birdie says this hilarious line, "I tried to have cybersex once but I kept getting a busy signal!" Was she just getting an early form of ghosting?
It was right around the time when chat rooms were just starting to boom, everyone was dipping their toes into it, and we all didn't have smartphones making it all way easier. Oh, and modems using home phone lines were still a thing. "Mom, get off the phone, I'm trying to 'talk' to someone here!" El scandalo!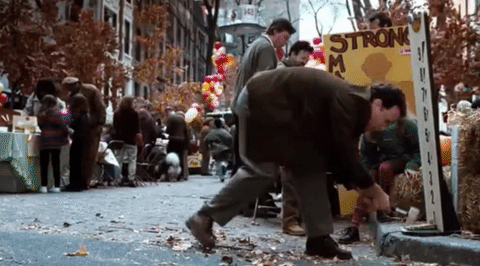 Relic: writing letters/emails
A hallmark of Joe and Kathleen's correspondence was their poetic and heartfelt diatribes about loving New York in the fall. Today, though, instead of wordy and eloquent prose about "bouquets of freshly sharpened pencils" or hearing nothing but "the beat of my own heart," online romance more likely involves witty quips on Tinder and Snapstreaks on Snapchat. You've got to be meme-savvy and ready with a joke or you might get ghosted. It's all shorter and more fast-paced, but timeless in its ultimate goal: to connect.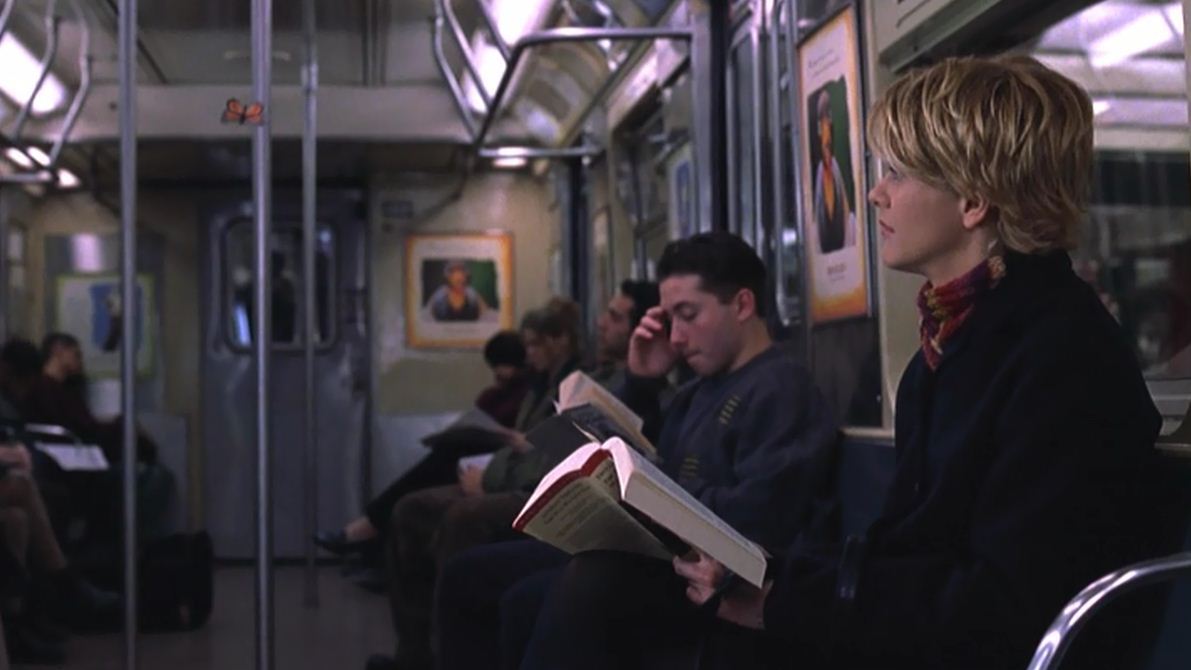 Relic: reading on the subway
Do people still read on the subway? Definitely, though you're more likely to see it on tablets, phones, and audio books than physical books, though you'll see those once in a while, too. But on the whole? It's just rows and rows of heads looking down at smartphones reading, texting, working, or gaming.
Timeless: Starbucks
An obsession then, an obsession now. "Tall skim caramel macchiato" is still very much a thing. Except, unlike in 1998, it won't be $2.95. Sigh.
Oh, and the biggest irony? That the indie bookstore owner would be at Starbucks instead of a local indie cafe. Come on, Kathleen!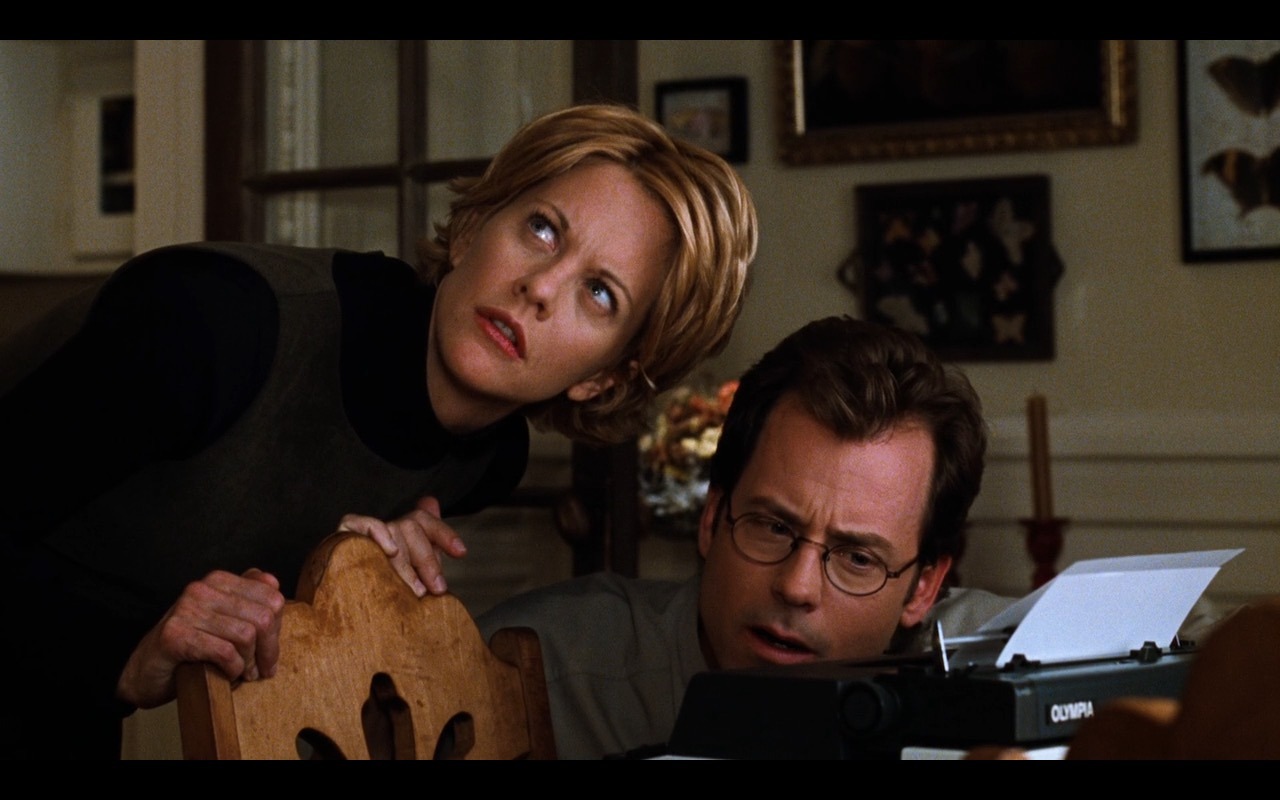 Relic: Typewriters
The world's last typewriter factory closed in 2011 in India. They had a good run, though. Greg Kinnear's long-suffering technophobe Frank would probably still be clicking away on this. And he's not joining Facebook and that's that!
Timeless: bemoaning the younger generation not knowing anything
When Kathleen offers a handkerchief to Joe's young aunt Annabelle after she sneezes, she laments her not knowing what it is. "Do children even know what handkerchiefs are?" We shall all grow up to lament what the younger among us do not know. Like that modem noise and landlines and floppy disks (or as the teens call it, "the save icon").
Relic: Being able to rent an apartment in Manhattan on a part-time salary
Store clerk Christina (Heather Burns) worries about the potential shop closing by saying, "What if we have to fold? I'm never gonna find another part-time job and I'm not going to be able to pay my rent and I'm gonna have to move… to BROOKLYN."
These days, not only is the cost of living in Brooklyn sky-high (let alone Manhattan!), but the only way most 20-somethings make ends meet in Brooklyn is by working full-time and having their parents help with the rent. Wages are stagnant, student debt is out of control, and this is a far less fun reality than some of these are now that I'm thinking about it.
Then there was fellow clerk George's (Steve Zahn) retort, "Ah the joy of rent control. Six rooms, $450 a month." HA. A relic, indeed.
Timeless: everything online is forever online
Fun trivia: all of Joe and Kathleen's emails are preserved by Warner Brothers' official website which you can access anytime. It's the perfect analogy for the internet having a long memory and every deleted tweet can be resurrected in perpetuity. The poster beware.
Timeless: America's sweetheart
I love Meg, but it's Tom Hanks, of course! Our national treasure in 1998 and our national treasure in 2018. And our national treasure in 2038. And 2058. Science will find a way… or else.
What would You've Got Mail be today? A Twitch streamer meets a YouTube makeup guru on Whatsapp only to find that they're competing for the same sponsor? I'd watch it.
For now, if you're looking for insight into the minds of the connected youth, I'd recommend Eighth Grade as a window into the younger generations daily loop of social media and the quest for connection. Fascinating stuff.
Catherine Clark is a Chicago-based editor and designer who spends time reading, gaming, cooking, and of course, watching movies en masse. You can find her words and work at USA Today, Nerd Wallet, Chicago Tribune, NPR, Huffington Post, Buzzfeed, MSN, Offbeat Empire, and on her lifestyle blog, BijouxandBits.com.