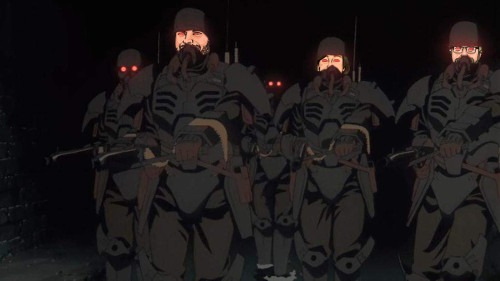 Spoiler Alert: The Wolf Brigade Movies
As we give thanks to all our listeners on Thanksgiving, we have a special Patreon episode thanks to Andrew Milne we have a fun-filled spoiler episode of both Jin-Roh: The Wolf Brigade and Illang: The Wolf Brigade.
Illang: The Wolf Brigade is a 2018 Korean film set in 2029 where South and North Korea are preparing to unify after many years of separation. A special police unit known as "Illang" attempts to stop a domestic terror group attempting to stop it all. The film is directed by Kim Jee-woon and stars Gang Dong-won, Han Hyo-joo, Jung Woo-sung, and Kim Mu-yeol.
Released in 1999 in Japan, Jin-Roh: The Wolf Brigade is set in alternate-history Japan in the 1950s following the atomic bombing. The lead character, Kazuki Fuse, confronts the horrors of war and his own conscience during a trial and subsequent unexpected friendship. It was directed by Hiroyuki Okiura and stars Yoshikatsu Fujiki, Sumi Mutoh, and Hiroyuki Kinoshita.
In Worth Mentioning we cover Frozen II, The Irishman, and Knives Out.
Speaking of Knives Out, if you've seen it and weren't sure what happened or just want a plot recap, check out: Knives Out ending explained: who was the real killer in this whodunit? (plot and spoilers!)
If you'd like to help us decide our future movie coverage, check out how to support us and get access to exclusive content on Patreon.