#1-10 #11-20 #21-30 #31-40 #41-50
#51-60 #61-70 #71-80 #81-90 #91-100
See also: The Best Films of the 2010s (podcast episode)
80. The Raid
AKA Serbuan maut
(Gareth Evans, 2011, Indonesia)
The purest film of the decade: it spends one scene setting up its conflict, one scene resolving it, and every other scene putting the great Iko Uwais through the paces of what amounts to a single feature-length gun fight. Evans's genius lies as much in how he works in ebbs and flows into the momentum of this gazelle-like action movie as in how he stages any individual stunt, though the stunts here are obviously nothing short of sublime. There have been other action movies I've loved this much or more in this very action-friendly decade, but it still feels a bit like The Raid gave me a high that I've been chasing ever sense; it has an unfiltered potency that nothing since has surpassed.
79. Before Midnight
(Richard Linklater, 2013, USA)
It's a weird swerve and somewhat off-key continuation of Before Sunrise and Before Sunset – and, well, isn't that just the point? Those were stories about optimism and romanticism, this is a story of the constant hard work of sustaining a relationship that has run out of fun new surprises, and only has familiarity left: it's comforting sometimes, annoying other times, and that's precisely what it feels like to watch the film subvert our expectations. Ethan Hawke and Julie Delpy disappear in the rhythms of their characters completely, turning out one of the most intimate portraits of a long-term couple I can thing of, equally dramatic and intense whether they're in the midst of a screaming match or when they're just chatting in the shade.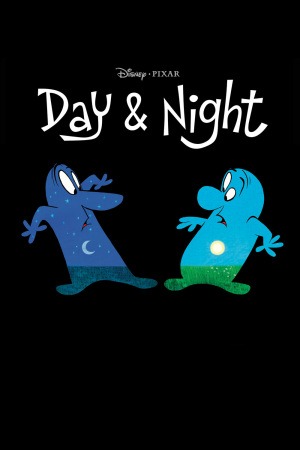 78. Day & Night
(Teddy Newton, 2010, USA)
Add Pixar Animation Studios to the list of great artists left me wanting more in the 2010s, but at least they started out the decade with one last hurrah, trying something bizarre and new to push two different animated media into a happy new marriage. I was hotter on the film when it was new, and it seemed like stereoscopic 3-D was on its way to developing a new artistic vocabulary, but even now, the tension between flatness and depth is as rewarding as the story's tension between two warring but complimentary opposites. As a family-friendly, highly sentimental tale of how dialectical oppositions can synthesise into new situations that make everything better for everybody, it also has an unusually sophisticated message for a kids' cartoon.
77. Neruda
(Pablo Larraín, 2016, Chile / Argentina / France / Spain / USA)
The Pinochet trilogy smartly marries history and genre filmmaking, and 2015's The Club (which I don't especially like) at least has passion and ideas behind it, but for me, this is where Larraín became a world-class Director To Watch. A literary biopic that's also a left-wing political satire is impressive, but not so shocking; a film that raises the question if it's any of the above, or actually a self-aware metanarrative about the impossibility of using fiction as a way to understand real life events, that's where Neruda becomes one of the wildest and most singular films in its genre, whichever genre we want to hand it to. Anything that can be this much fun while also being this didactically pro-Communist is doing everything right.
76. You Were Never Really Here
(Lynne Ramsay, 2016, UK / France / USA)
You hand the reigns of an exploitation film to an art film director, this is exactly what you hope to get back. The plot – a sullen assassin rescues the daughter of a senator from kidnappers – is the stuff of pure boilerplate, and even the nuances of post-traumatic stress disorder aren't really all that new, either.  What gives the film its freshness and force is the way that Ramsey and company bury us in the head and body of that hitman, played with almost unendurable emptiness by a never-better Joaquin Phoenix. I remember few things from the past decade as clearly as I remember the literal physical force of this film's pulverising soundtrack and shocking vision of the city at night as a neon nightmare.
75. John Wick: Chapter 2
(Chad Stahelski, 2017, USA)
2014's John Wick is great, let's never pretend otherwise, but it's a great version of a thing that's been great in the past. Chapter 2 is the point where mad inspiration enters the franchise: everything here has been great before, but not in the gun-fu/giallo/opera/art museum/fashion week combination that we see here. A fantastic exercise in action movie maximalism, the colors, sets, choreography, and music are pure candy, a reminder of the raw pleasure of movies-as-spectacle, but something keeps the film from completely floating off into the ether; Keanu Reeves's stolid, unimaginative presence, maybe, or the physicality of the violence. Maybe it's even the gonzo world-building, which is paradoxically cohesive and consistent for something that was so clearly being made up as they went.
74. Coda
(Alan Holly, 2013, Ireland)
A magnificent little snippet of existentialism, giving us a nine-minute tour of what happens at the moment of death in minimalist, ghostly pastels. Philosophical cartoons had a good run in the 2010s, but this is one of the best, a gentle and warm treatment of the one truly universal human experience that puts across its ideas with neither undue sentiment, nor cliché, coming across as fundamentally more humanistic and curious than nihilistic or self-consciously Meaningful. It's just kind, a remarkable thing for existentialism to be. And on a personal note, the only time I've ever served on a film festival journey, it was to award this film the Best Animated Short prize at the Chicago International Film Festival – something I've always been enormously proud of.
73. The Girl Without Hands
AKA La Jeune Fille sans mains
(Sébastien Laudenbach, 2016, France)
A true labor of love, drawn frame-by-frame by Laudenbach himself, this would already have gotten itself in my good books for its extraordinary aesthetic: the 2010s have been very good for singular animation styles, but I still don't know if I can name any feature as wildly idiosyncratic as this marriage of bright digital color and the ethereal ghostliness of traditional ink-wash painting. Sealing the deal is that this is one of the best attempts I've seen in cinema to get at the weird otherworldliness of fairy tales and folklore, existing in a psychological and moral universe that's truly different and fantastical, while still capturing the deep emotional power of those stories. And in just 76 minutes! It's like he made it just for me.
72. Mr. Turner
(Mike Leigh, 2014, UK / France / Germany)
Costume dramas and biopics are usually opportunities to show off banal good taste. Mike Leigh films, on the other hand, are usually opportunities for watching human beings in a very precise social context make the world a harsher place, so it's little surprise that this costume drama biopic is less about celebrating J.M.W. Turner's genius than about grappling with how irritating it must have been to know such a man, and what he can tell us about England in the 19th Century (as well as England today). Timothy Spall gives one of the decade's best performances as the piggish, mean Turner, and Dick Pope's gorgeous cinematography captures the texture and subjective reality of paintings like nothing else in a good decade for painterly movies.
71. Boyhood
(Richard Linklater, 2014, USA)
In a decade of bad film opinions, none has annoyed me more than the criticism of this film, "you only think it's good because of how it was made". And, like… no shit? If Boyhood hadn't been made a few weeks at a time over the course of 12 years, it wouldn't exist at all – this is one of the great "how it is matters more than what it is" films of all time. It's a fine if generic story of a kid growing up (in which regard I do find it frustrating, more with the character's choices than the film itself), but it's really about our constant awareness of time passing in almost invisible ways, as we watch 12 years click by on the actor's faces.