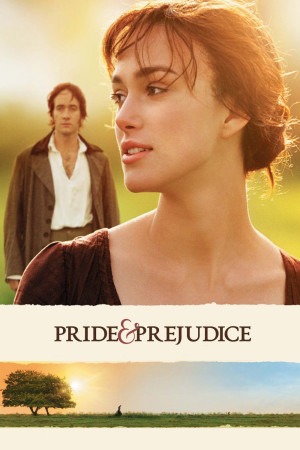 Oh boy, another effing Pride and Prejudice
On one level, I hate to ask, "did we really need another
Pride and Prejudice
?" Need or no, we have another one, so that's a fairly futile question. But what's scary is that the answer is a qualified "yes."
The plot, quickly, for those who have somehow managed to avoid reading it: Elizabeth Bennett is the second of five daughters in a Napoleonic-era household. She meets Mr. Fitzwilliam Darcy, one of the most fantabulously wealthy men in England. They are both proud. They are both prejudiced against the other. When they finally get together, it is
awesome
and
romantic
.
Obviously, the touchstone against which all P&P adaptations must be judged is the 1995 BBC miniseries, the sort of film for which the word "definitive" was invented. Shockingly, the new film compares pretty well: for one, it's a hell of a lot shorter, and although this means that some plotlines have to be cut, and some sequences are much compressed, a normal person can actually, y'know, watch this film in something less than a weekend marathon. Additionally, there was clearly more money available for this production, as the art direction and overall quality seem a little less (there's no nice way to say this) BBC-TV level.
The acting is all quite good. Matthew MacFadyen has the most unenviable task in the film, making us forget Colin Firth as Mr. Darcy, and he doesn't - but he's very good nevertheless. The rest of the cast is a mixture of "yawn-another-Judi-Dench-cameo," wonderful surprises (Donald Sutherland makes a
great
daft old British man), and unsurprising but solid performances by British workhouses (Brenda Blethyn, one of those actresses who just kind of supports the entire British film industry on her back).
The big deal is obviously Keira "
Domino
" Knightley, one of those Hot Young Things who never appears in anything objectively good, and then suddenly is perfect in a role that ends up generating awards buzz and all that. And she is damn amazing, considering what I would have thought her capable of. Maybe a touch too pretty (yeah, I hate that), but she nails the tomboyish headstrong qualities of Elizabeth Bennett.
On the technical end, the film is solid if unspectacular. There's an annoying "lookatme!" quality to a lot of the cinematography (especially in Elizabeth and Darcy's joyous climactic reunion, which Roman Osin just golden-hours the hell out of), but at least it's easy on the eyes. Joe Wright chooses to direct in a lot of long takes, including some very ambitious tracking shots that serve, to my mind, to tie the disparate strands of the parties and households of this world into one whole.
What makes this film most interesting, though, is how earthy it all is. We're used to the world of Austen being full of drawing rooms and white panelling, but pigs and chickens are more of a surprise. And mud! This is a muddy film. Lizzie gets mud on her, gets criticized for being muddy, and I'm just sitting there thinking, "yes, it should be muddy. Wow."
Full disclosure: I am an Austenite, through and through, and although
Pride and Prejudice
isn't my favorite of hers, I think it's one of the great works of 19th Century English literature. If your experience with Jane is less happy than my own, you should maybe think about giving this one a miss: I loved the film for much the reason I loved the novel. If you didn't love the novel, then...you suck. Go away and read your precious Hemingway, or whatever you Jane-haters like.